SNTS – Square Non Tapered Steel Pole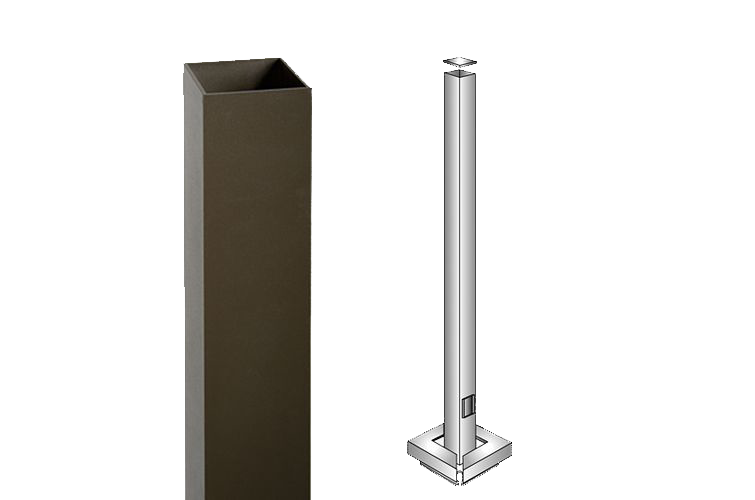 Features
4, 5, or 6″ shaft sizes
Heights from 10′ to 35′
Pole Shaft
ASTM A500 Grade B tubing with minimum yield strength of 55,000 PSI. Shaft is furnished with ground lug inside pole, opposite hand hole opening. Center line of hand hole is 12" from base plate.
Base Plate
Steel Plate base is ASTM-A36 hot rolled steel, meets or exceeds minimum yield strength of 36,000 PSI.
Base templates provided with order. Do not pre-pour.
Base Cover
Die-formed from heavy gauge quality aluminum. Two piece cover for easy installation.
Pole Cap
Color-impregnated polymer snap-to-close pole cap provided in black.
Finish
All poles are shot-blasted and cleaned to a near-white nish prior to painting. A Quali-Guard® textured thermoset polyester powder coat is then applied to a minimum of 3 millimeters and then oven-baked at a temperature of 400ºF to promote exceptional adherence and finish hardness. Pole finish is warranted for a full two (2) years. An optional ve (5) year extended warranty is also available (external prime coat and internal rust inhibiting coating).
Anchor Bolts
Poles are provided with hot-dip galvanized anchor bolts, with a "J" bend on one end and two at hex bolts end and two at washers per bolt. Anchor bolts meet or exceed a minimum of 36,000 PSI. Anchor bolts conform to ASTM F1554 grade 36 and are provided.
Browse Available
SNTS – Square Non Tapered Steel Pole Downloads